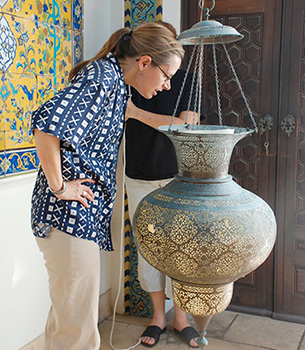 HRG celebrates a staff anniversary.
Laura Janssen, Senior Architectural Historian, recently celebrated ten years as a highly valued member of HRG's staff. Laura works on a variety of projects and tasks, including research, historic assessment and architectural conservation. Current assignments include construction monitoring at the LA County Hall of Justice and the Rose Bowl, and managing the preparation of a Cultural Landscape Report for the Los Angeles County Arboretum.
Los Angeles Conservancy recognizes HRG.
HRG recently received two 2013 Los Angeles Conservancy Preservation Awards. Winning projects were the 28th Street YMCA in Los Angeles and the Lopez Adobe in San Fernando.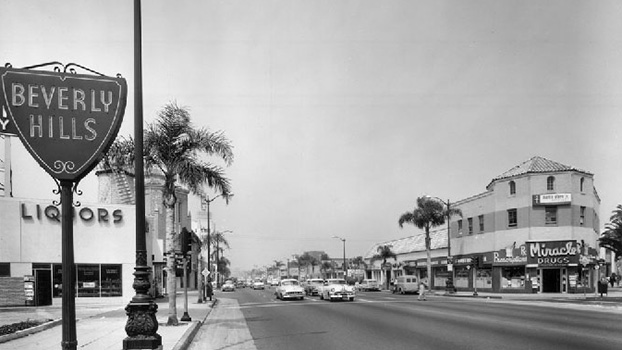 Beverly Hills selects HRG for citywide survey.
HRG is leading a project team to update the citywide survey for the City of Beverly Hills. HRG has a long history in Beverly Hills, dating back to the authorship of the first citywide survey in 1985 by Christy Johnson McAvoy, HRG's Founding Principal. The survey update will be a vital tool for land use planning in the City, including implementation of the City's 2010 Historic Preservation Element as well as the 2012 Historic Preservation Ordinance. The survey update officially kicked-off in April, and is scheduled to be completed in Spring 2014. An important component of the project is outreach to the local community, which will include a series of public meetings in the coming months.
Lopez Adobe stands strong.
HRG played a key role in the rehabilitation of one of Southern California's rare 19th century treasures, the Lopez Adobe in the City of San Fernando. HRG tasks included analysis and review of rehabilitation work, design, and execution to meet historic preservation standards. Since acquiring the early residential landmark in 1970, the City and supportive citizens have maintained the site, home, and collection as a public museum. The recently completed project improved seismic safety, repaired deteriorated features, improved accessibility, and provided for landscaping that is more compatible with the site while accommodating public outdoor uses. This work culminated in a 2013 Preservation Award from the Los Angeles Conservancy.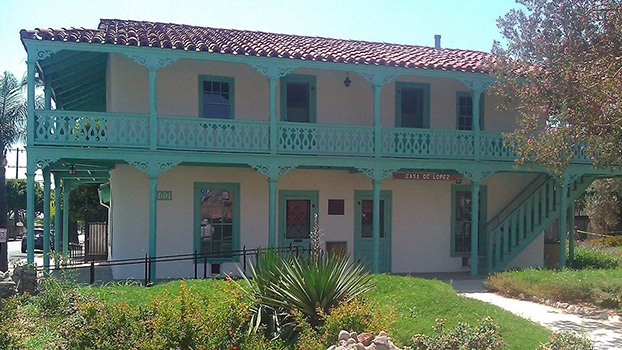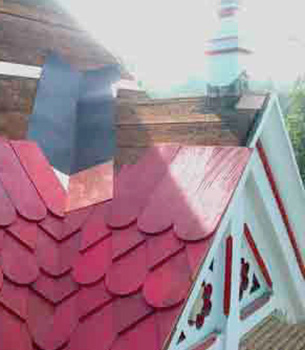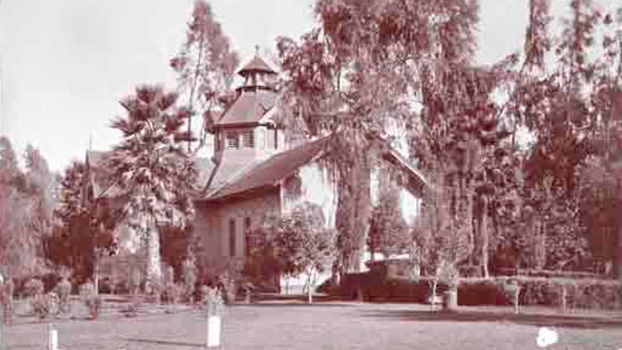 Lucky Baldwin landmarks are re-roofed.
Elias Jackson ("Lucky") Baldwin's 1885 "Queen Anne" Cottage and Coach Barn are ornate examples of Victorian extravagance. Alternating slats of cedar and redwood interior paneling and original iron grillwork contribute to the feeling of opulence. The Coach Barn housed Baldwin's collection of private carriages. The Baldwin Estate is a popular film location, appearing in popular movies and TV series such as Tarzan, Fantasy Island, and Meet the Fockers.
Historic Resources Group assisted a large team, including Mitchell Bishop, Curator of Historic Collections at the Los Angeles County Arboretum and Botanic Garden; LA County Parks and Recreation staff; LA County contractors; historian Sandy Snider; and historic architect Bill Ellinger, in protecting the Cottage and Coach Barn through a sound and authentic replacement of deteriorating wood roof shingles. Although the original roof materials were no longer extant, the Los Angeles County Arboretum's records and other archival sources were used to identify the original materials and find appropriate replacements. Custom shingle widths were specified, fire-retardant stain colors were adjusted, shingle courses were counted, complex imbrication patterns were reproduced, and new sheet metal and copper flashings were installed.